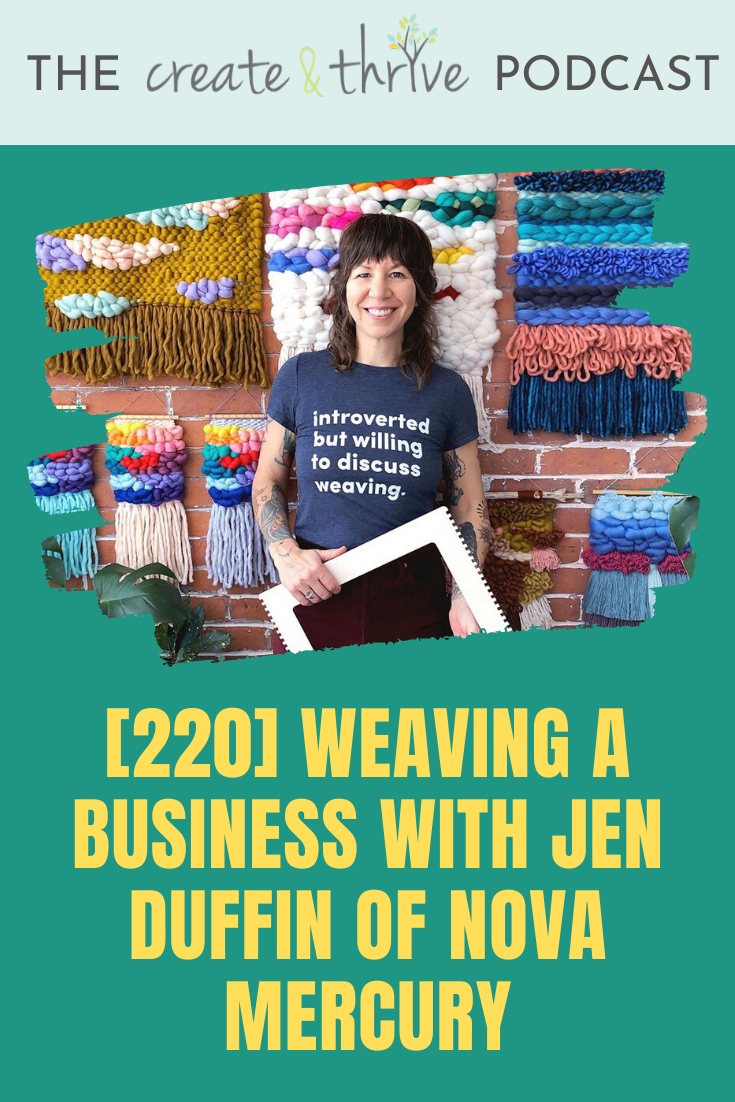 In just 3 years, Jen Duffin from Nova Mercury has built a thriving weaving business, and a thriving Instagram following.
I love her bright, colourful, organic style, and when I discovered her on Instagram, I knew immediately that I wanted to chat to her on the show!
Jen has over 81k followers on Instagram, as well as a super-successful Etsy shop – she was even nominated in the Etsy Design Awards.
We had a fun, in-depth chat about why she started (by accident, and motivated by dealing with a chronic health issue) how she manages to run a business and raise 2 kids with a partner who travels a lot, why she diversified into both handmade and supplies, and we both agree about putting boundaries around your work – so you can enjoy your life.
You can listen to this episode below, or on your fave podcasting app!
Support the show
You can make a secure donation (of the amount of your choice) via the Paypal button below.



Each donation helps cover the cost of hosting, show-note writing, research, interviewing, recording, editing, etc. etc.
In short – it helps to cover the time and financial costs of putting together a free weekly show to help you grow your handmade business.
You can also:
Highlights from this episode:
Jen got into macramé to make plant hangers for her house and did not start with an eye to creating a business.
After the birth of her second child, Jen started selling her works and built her own business to work from home and have a flexible schedule.
"Monetising your creativity is a tricky business" {Jen}
Some of Jen's favourite projects are where she collaborates with a client to decide on the colours and story of a work.
Jen now provides kits and supplies in addition to her finished pieces.
"I realised that I really like having the supplies to sell because it creates a revenue stream for me that's not contingent on my creativity" [Jen]
Jen finds Instagram is a very effective tool for her business and uses it in conjunction with Etsy to sell her pieces.
"I build my Instagram time into my work day" {Jen}
Jen is organised with her workday and works weekdays and while her children are at school. 
"I don't think you should be on your phone or computer all day and not have access to having some downtime. That's not good for anyone. {Jen}
Building a business with an "always available" mindset is not sustainable and can lead to burnout.
"I've been in business for almost 12 years now and I don't answer emails on weekends. And my business is still fine." {Jess}
 "It's fibre art, it's not an emergency. I think people can wait a little bit and its okay" {Jen}
To get the most out of Instagram educate yourself about how it works. Aim for engagement and people liking and commenting.
Be consistent and post regularly on Instagram. Jen posts at the same time every day as part of her workday.
"Learn to use stories to engage with your followers. If you are a maker or artisan or you have any kind of skill and you are willing to skill share even a little bit people love that and it's a great way to get engagement." {Jen}
You don't need a fancy camera to take great Instagram photos—Jen uses her phone.
"Be dedicated and try not to be thrown off your path by either your successes or failures." {Jen}